Support this project: or send me something from my Amazon wishlist.
The MIST is on sale
The MIST is now being sold fully assembled, ready-to-run and with a nice little case. Order your board at Lothareks Lair!
Need more information?
This page was used during the initial development. With the board being available for sale the documentation and code also needed a new public home.
Thus the main information source for the MIST is now the mist board project at google and the MIST/Suska forum at atari-forum.com.
Motivation
I grew up with the Atari ST and i am still fond of it. The MIST project aims to recreate one. Cheap and simple enough to be built at home just for the fun of it.
The MIST is supposed to be some kind of "next gen minimig", being as cheap and as simple as the original Minimig. The key changes are:
Bigger FPGA eliminating the need for a real 68000
USB support eliminating the need for PS/2 devices
SDRAM instead of SRAM since it's cheaper and has a much higher capacity
Why "MIST"?
In reference to the Minimig which stands for Mini Amiga, the MIST was supposed to be the Mini ST. But one of the first things that actually ran on the MIST board was the Minimig core. So MIST now stands for AMIga/ST.
Projects the MIST is based upon
The MIST includes code, designs and concepts from various other FOSS projects. This includes:
Dennis van Weeren's Minimig
Tobias Gubener's chameleon64 port incl. the TG68K core and the sdram controller
Minimig extensions from Jakub Bednarski, Sascha Boing, A.M. Robinson, Rok Krajnc ...
MikeJ's YM2149 implementation
Parts of Stephen Leary's mfp implementation
The arduino USB host shield
... and many, many more ...
Overview

Schema
The board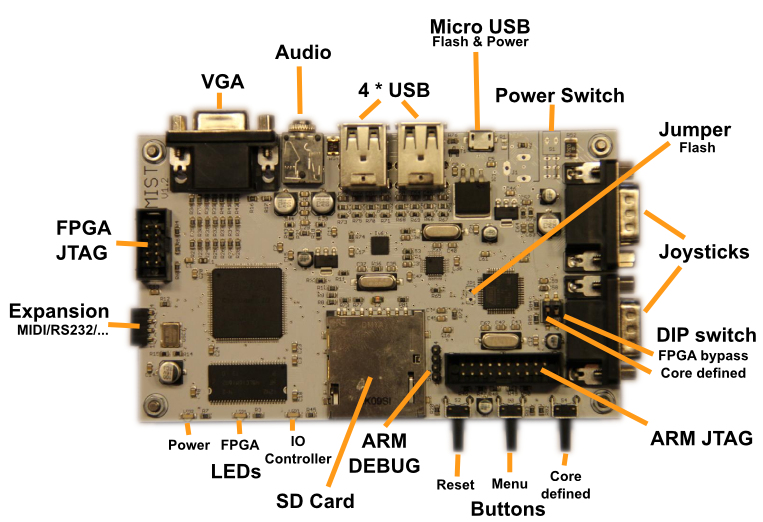 The real board V1.2
History
The full history of the MIST development can be found here.
Videos
MiST files
The source code is now hosted at Google code.
Binaries for firmware and cores can be found in the binary section at googlecode or in the download sections below.
Generic files
Binary files
Related Links
Complete ST. VHDL code under LGPL
VHDL re-implementations of Amiga, Atari ST and some arcade machines
TOS on the Coldfire. Available from Medusa
Original Minimig
Minimig running on an Altera EP3C25
HDL ports of Pacman and other arcade machines
Nearly finished implementation of the Mac Plus
VHDL implementation of the NES
FPGA implementation of the Commordore 64