The serial joystick interface for TheMaze
---
What is this interface good for?
Like the parallel joystick interface the serial interface allows the connection of digital joysticks as used with AtariST, Commodore Amiga or C64 to a standard RS232 serial 1200 bit/s line.
The hardware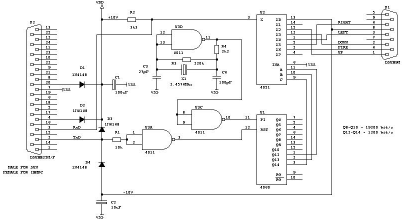 This is also availlable as postscript file, as a ZIP'ed OrCAD3.2 schematic and full size GIF!
The interface uses TxD, RTS and DTR to generate it's supply voltage of +12V/-12V. It acts as parallel to serial converter converting the five parallel joystick inputs into a 1200 bit/s serial rs232 signal. The baud rate is generated via a 2.457 mhz quarz and divided down to 1200 Hz by a CMOS 4060 (14 bit ripple stage binary counter). The counter drives a 8 channel analog multiplexer (CMOS 4051) that selects one of the parallel inputs and drives it to the output line.
The software
The interface is accessed at 1200 bit/s 8N1. The interface replies to a null byte (00000000b) with a byte of the form 11OFRLDUb. Where F represents the status of the fire button and RLDU are representing the right, left, down and up switches of the joystick. A set bit (1) indicates that the coresponding switch is closed. The O bit is not used (always 0) with standard C64 joysticks. It may be used for a second fire button connected to X7 (pin 4) of the 4051.

The simple demo program demonstrates the usage of the interface under Unix (tested under SunOS, HP-UX and Linux-i386).
---
Till Harbaum
Till@Harbaum.org